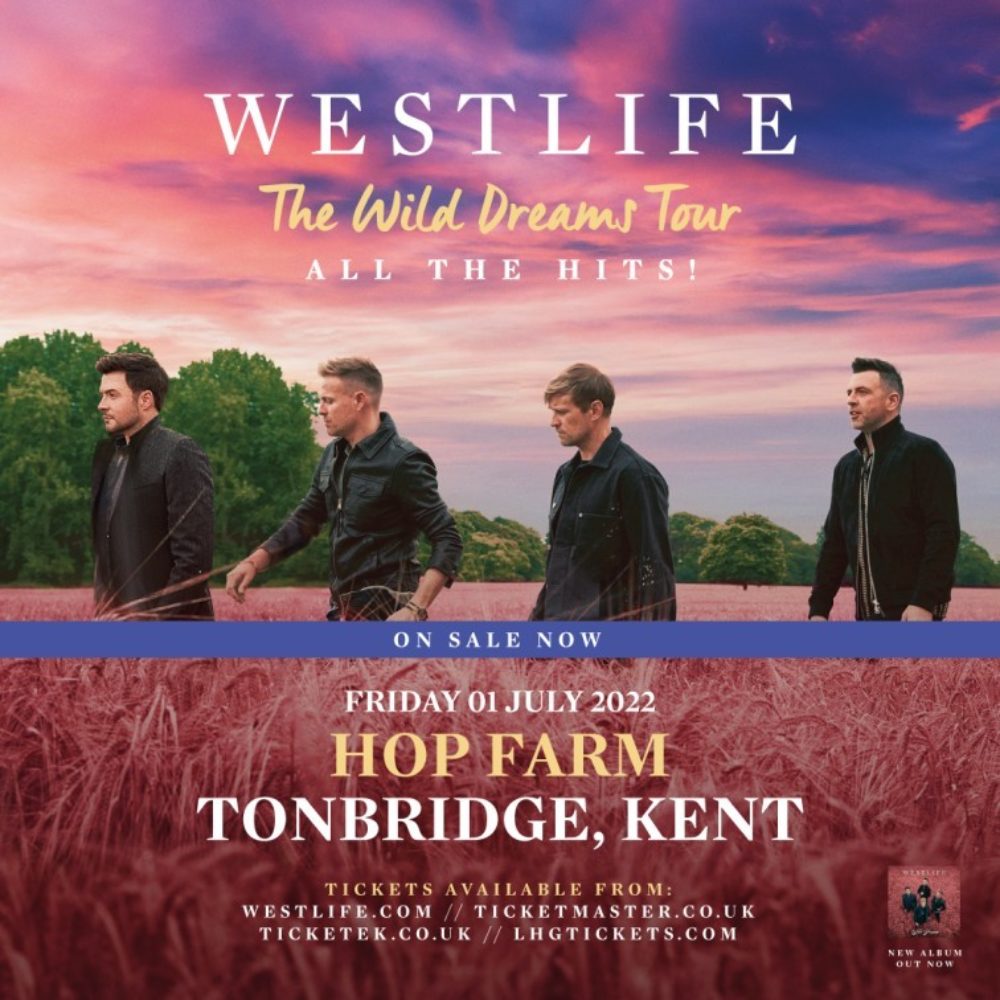 WESTLIFE ANNOUNCE KENT DATE FOR THEIR 2022 'THE WILD DREAMS' TOUR
PERFORMING THEIR GREATEST HITS 'SWEAR IT AGAIN', 'FLYING WITHOUT WINGS' AND 'WORLD OF OUR OWN' AS WELL AS, FRESH POP ANTHEMS FROM THEIR MOST RECENT ALBUM 'WILD DREAMS'.
Have a question about the concert? Find out more HERE
Tickets on sale NOW HERE
One of the UK's biggest-selling groups of the 21st century, Westlife, today announced they will be adding an extra date to their 2022 tour as part of their sensational return to music continues.

Westlife will once again be hitting the road this year, following their record-breaking 2019 reunion tour which saw Shane, Nicky, Mark and Kian play to over 600,000 fans across 27 countries. The Irish pop kings kick off their tour next summer at the Hop Farm and will then perform at venues across the U.K. including an already sold-out headline show at London's iconic Wembley Stadium.
The Wild Dreams Tour will see Westlife get closer to their fans than ever before, as they perform all their greatest hits 'Swear It Again', 'Flying Without Wings' and 'World of our Own' as well as, fresh pop anthems from their new album 'Wild Dreams'.
The Band say: "We are incredibly excited to announce news of The Wild Dreams Tour. It feels like things are finally starting to return to normal and we can't wait to enjoy that feeling with our amazing fans."
"After the last 18 months, this tour means more to us than any that we've ever done before. It will be a massive celebration and will bring us closer to our fans than ever before. We're planning some spectacular shows which will include all of our greatest hits and some special surprises."
News of the 2022 tour marks the beginning of a packed schedule for Westlife who released the album 'Wild Dreams' in November 2021 . The album includes songwriting contributions from Ed Sheeran ("My Hero") and Amy Wadge ("Lifeline", "Rewind"), along with production from Jamie Scott, Rami Yacoub and Steve Mac.
Shane, Nicky, Mark and Kian have established themselves as the world's biggest band of the 21st century, having sold over 55 million records worldwide and are the only band to have their first seven singles enter the UK chart at No.1. They also have more singles than any other artist to debut at No.1 in the UK. Overall the band have had an incredible 14 No.1 singles, second only Elvis Presley and The Beatles. They have had 33 No.1 albums worldwide and as a live act they have sold five million concert tickets worldwide and Counting...
One of the Co-Promoters for the show at the Hop Farm said "We couldn't be more delighted to kick off the tour with Westlife at The Hop Farm. Westlife are an immense band with an incredible heritage and we're thrilled to support their reunion."
Westlife are delighted to announce that Louisa Johnson will be joining them this summer on 'The Wild Dreams Tour' tour at The Hop Farm, Tonbridge, Kent.
From performing at talent shows on a family holiday at eight years old, to being the youngest X Factor winner at 17 where she recorded the most votes by an artist on the history of the show. Louisa was always destined to perform where others did not believe in her.
By choosing to attend a secondary school known for its ability to nurture musical talent, Louisa would always sing whenever she had the opportunity. From performing during her lunch breaks where she would sometimes get in trouble from the teachers to after school in her bedroom, she just wouldn't stop!
With her determination by the age of 16 she was releasing her own music and videos, where she started to slowly build up her fan base of 3000 followers on Twitter before her X Factor journey.
Having won X Factor in 2015, Louisa spent 2016 working with a dream cast of writers and producers to help develop her artistry where she worked with the likes of Clean Bandit, Ali Tamposi (Justin Bieber, Beyoncé), Burns (Britney, Calvin Harris), Ed Drewett (One Direction, Little Mix), and J Kash (Maroon 5, Meghan Trainor) to name a few.
Her first release, 'Tears', where she featured for Clean Bandit, became an immediate success making it her first Top 5 UK hit single with lots of global success with one of the song's first performances being at Wembley Stadium, in front of 80,000 people.
With her first solo records 'So Good' and 'Best Behaviour' following 'Tears' all going Gold. This laid a solid foundation which proves her unique voice competitively competing within the UK charts which has allowed her to make the transition from a young girl winning a TV show to becoming a credible artist.
It's going to be an amazing summer of music in Kent! For tickets to see Westlife and Louisa Johnson head over to
Tickets are available from www.lhgtickets.com , www.ticketmaster.co.uk and www.ticketek.co.uk

Fans can also buy Westlife's newest album 'Wild Dreams', from www.westlife.com
For camping at the concert, please email touring@thehopfarm.co.uk