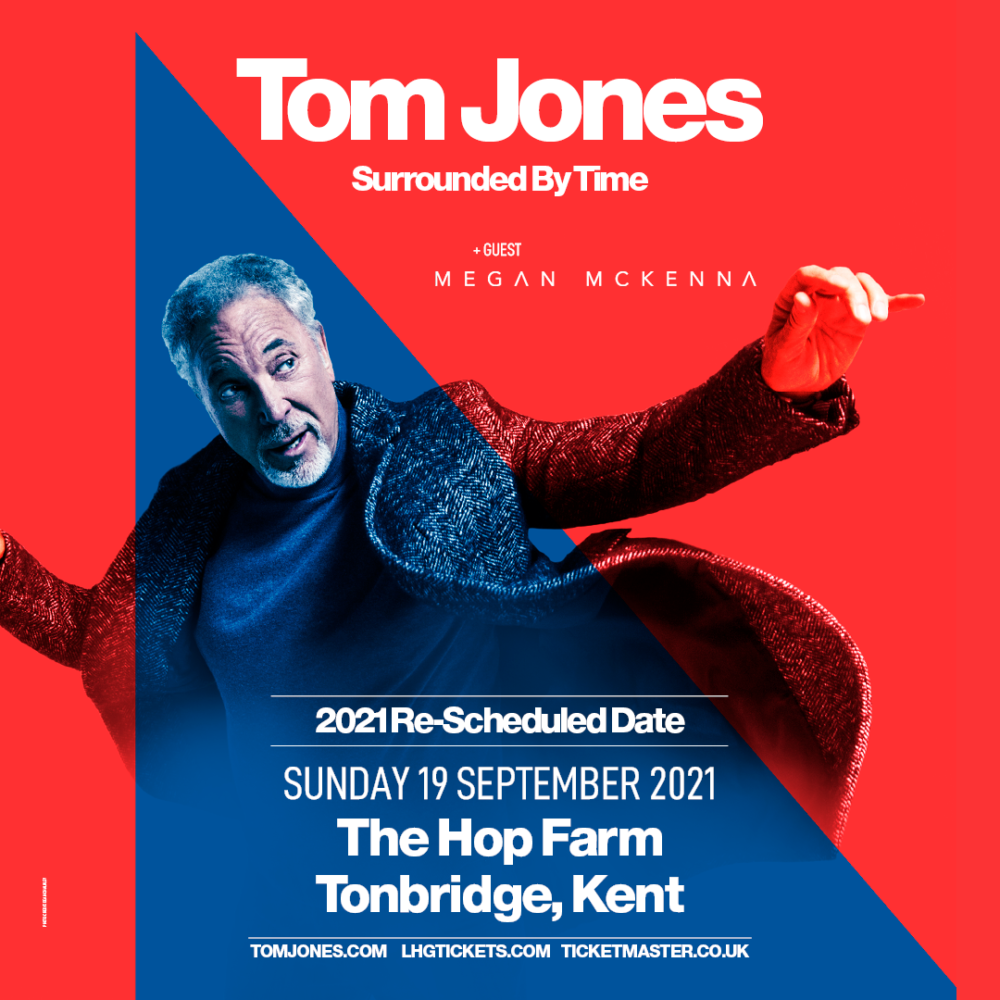 Tom Jones has confirmed that his concert at The Hop Farm has been re-scheduled to Sunday 19 September 2021 which follows the news announced in March that the Olly Murs concert will go ahead the day before on Saturday 18 September 2021.

Whilst the original date of 4th July falls after the scheduled date for lifting of most social distancing restrictions (June 21) for large scale events published by the government, the re-scheduled date of Sunday 19 September will allow organisers to ensure the safest, most secure environment for all fans attending.

It has been another busy year for Tom Jones, as he continued his role as a coach on the latest series of The Voice alongside Olly Murs, Anne-Marie and will.i.am whilst also getting ready to release a brand new album – Surrounded By Time – the very first to be recorded in his native Wales!
It promises to be an unforgettable weekend of entertainment at The Hop Farm and a return to Kent for both artists, much to the delight of their fans.

Fans are assured that any pre-existing tickets purchased remain valid for both concerts. Tickets also remain on sale and can be purchased from LHGtickets.com, Ticketmaster.co.uk and eventim.co.uk as well as on ollymurs.com and tomjones.com. any ticket enquiries should be directed to your point of purchase.
Tom Jones said "After such a tough year for us all I'm delighted that I will be able to get back on stage and perform for you all this summer. We're going to have one heck of a party!
On confirming the date Olly Murs said "I'm just so happy I still get to go on tour across the UK this summer after the year we've had! We've worked hard to put on as many shows as we can this year & next, and I can't wait to get back out and bring some positivity and fun on stage to my fans. The thought of performing with my band, working with my crew, and seeing my fans is getting me through lockdown, so roll on the summer!"
Liz Doogan-Hobbs MBE, CEO of Grandslam Live and LHG Events, promoter of the two concerts said, "We are delighted to confirm that Olly and Tom will be performing in Kent this summer. It has been such a tough time for everyone with no live events being able to take place for more than a year. We know it will be one epic party weekend at the Hop Farm and we're looking forward to sharing that with everyone in Kent!"
Megan McKenna has confirmed she will be joining Tom Jones as a guest for his summer concert
The singer, songwriter first came to prominence as a television personality. Yet it wasn't until 2017's 'There's Something About Megan' that we really explored the person behind the public persona. The show saw Megan travel to Nashville to experience the country music scene that she'd always loved and introduced her talents as a musician for the first time.
The show's success resulted in her debut country album 'Story Of Me' being released in 2018, with 2 singles hitting number one in on iTunes, knocking Taylor Swift and Pink off the top of the chart. The following year, Megan won 'The X Factor: Celebrity', her performances firing her into the iTunes Top 5 during every week of the competition.
Megan began 2020 with writing trips to LA & Nashville, and then spent the rest of the year making the most of a bad situation, by dedicating much of her time during the pandemic to song writing with huge hitmakers including Toby Gad (John Legend, Beyonce), Mozella (Miley Cyrus, Ellie Goulding, Kelly Clarkson) & Amy Wadge (Ed Sheeran, Camilla Cabello). The result is a collection of material which will elevate her career to new heights as 2021 unfolds.
Event information here:
Tom Jones: https://lizhobbsgroup.com/admin/resources/tom-jones-new-kent-information-2021-1.pdf


Tickets to see Olly Murs on Saturday 18 September 2021 and for Tom Jones on Sunday 19 September 2021 at The Hop Farm are on sale now priced from £39.50 + booking fee from the following sites:
www.lhgtickets.com
www.ticketmaster.co.uk
www.eventim.co.uk
www.ollymurs.com
www.tomjones.com

TO BOOK CAMPING BEFORE OR AFTER THE CONCERT AT THE HOP FARM CLICK HERE
Contact number for noise issues: 07789 795975